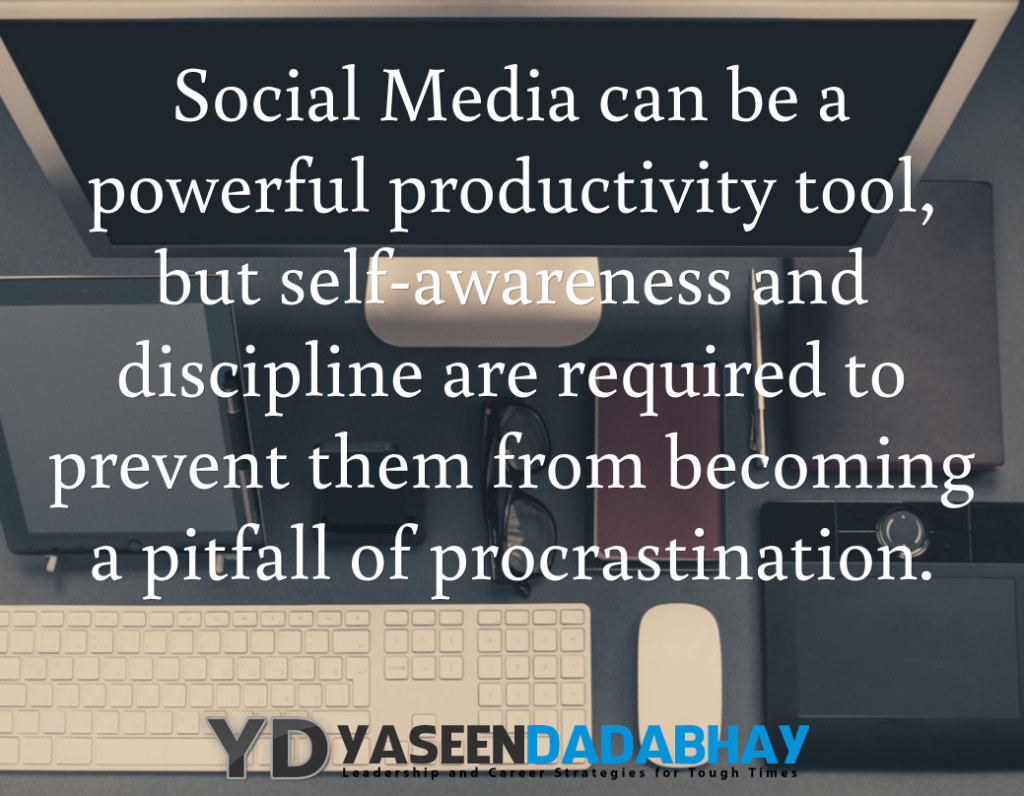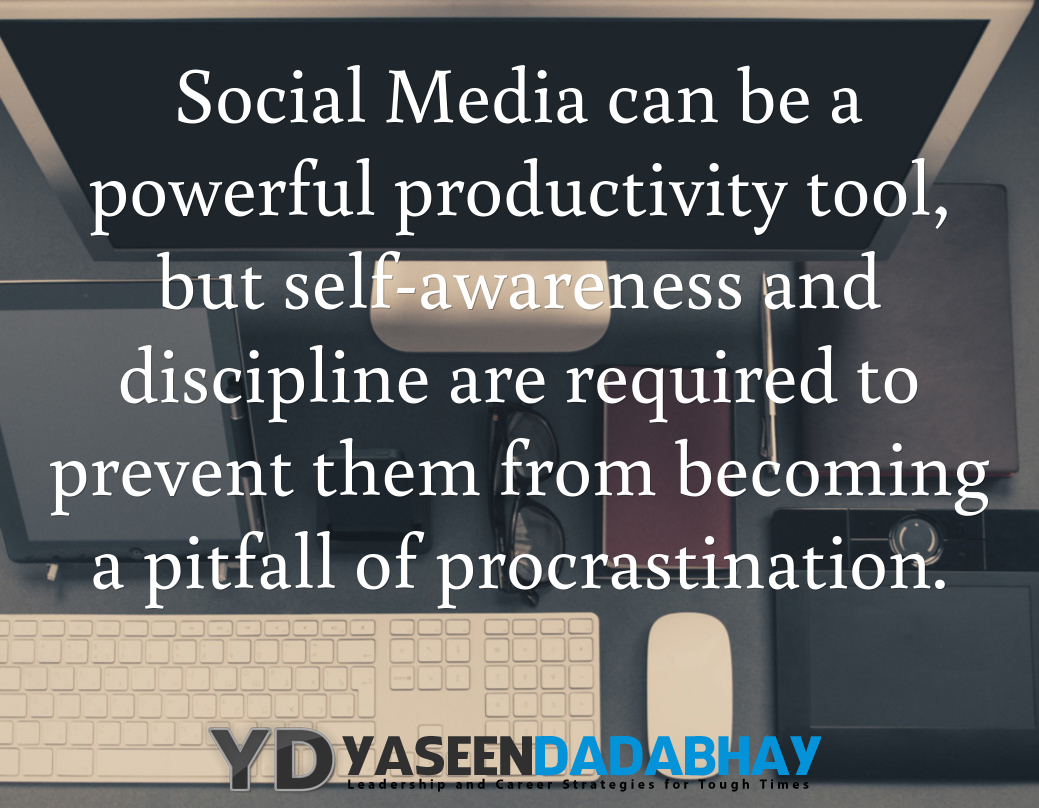 What information consumes is rather obvious: it consumes the attention of its recipients. Hence, a wealth of information creates a poverty of attention and a need to allocate that attention efficiently among the overabundance of information sources that might consume it.

– Herbert Simon
Facebook, Twitter, Instagram, message boards, and forums are now ubiquitous. These powerful communication tools offer many strong benefits. However, social media participation can also become a destructive addiction, where the benefits are overshadowed by negative side effects.
Here are some potential benefits of regular online social media participation:
Intellectual exchange
Learning new ideas and refining old ones
Enjoying community membership
Influencing the forum's evolution
Contributing to others
Making new friends and contacts
New business leads
Keeping up with current events
Learning about new opportunities
Here are some potential negative effects of excessive Social Media usage:
Reduced concentration and focus
Reduced productivity
Chronic procrastination
Increased pessimism and/or apathy
Being distracted by endless debates and idle gossip
Gradually substituting tribal group think for your own intelligence
Impaired social skills, neglected relationships, and a weakened social circle (a consequence of substituting online socialization for face-to-face conversations)
Reduced energy (forum participation is sedentary compared to more active social outlets)
Reduced self-esteem
Career and income may suffer (including loss of employment)
Forum addiction
Since the early 1990s, I've participated in many different online forums, message boards, newsgroups and Social Media platforms, and have experienced many of these positive and negative effects at various times. At university i ran a popular forum for almost two years, so I've had experience both as a participant and a forum operator. On the positive side, I've learned many great ideas, and made valuable new business contacts.  On the negative side, I found excess Social Media participation to be a huge time drain (and very addicting as well).
Here are some suggestions for using Social Media effectively and avoiding the negative side effects:
1. Take A Social Media Vacation
First, if you're currently active on any Social Media platforms, take a Social Media vacation. Stop visiting all Social Media platforms for a while; don't even lurk. I recommend a fasting period of 30 days, with a bare minimum of 14 days. This will help you break any unconscious habits and regain your perspective, so you can intelligently evaluate the role forums should play in your life. Otherwise, you may be coming from a place of unconscious habit and will likely overestimate the value of continued participation. If you're currently a Facebook page/group or LinkedIn group moderator, why not take a vacation, and enlist someone to temporarily assume your moderation duties. Redirect the time you would have spent on Social Media to something positive like exercising or reading books. If you don't think you have the discipline to do this, simply make a post in each forum explaining that you'll be taking the next 30 days off, and if any forum member catches you online, you'll pay the first person that emails you about it $100. This should give you enough leverage to stick with your fast.
2. Reassess Your Social Media Usage Habits
Once you've completed the initial fasting period (and not before), take a fresh look at your Social Media participation habits. Imagine that you just discovered each platform today for the first time. What are the pros and cons of participation? Is this the best use of your time, or can you imagine something better? If you're using Twitter to get specific information, would it be better to simply read books, articles, or blogs? If you're using Facebook as a social outlet, would it be better to join a local club and meet people face-to-face? Looking back on your previous pattern of behavior, would you say you were addicted? Did your usage pattern become unconscious? If so, how do you intend to prevent that from happening again?
3. Clarify Your Expectations
If you decide to participate in Social Media, clarify your expectations. Whether you intend to use Social Media for market research, to make new contacts, or as an outlet for your humorous wit, get clear on why you're there.
4. Establish Reasonable Boundaries
You can limit the number of times per week you check each platform, the total amount of time you spend participating, or the number of posts you'll allow yourself to make each week. Track your weekly usage on a scrap of paper to keep yourself consciously aware of your participation habits. Don't go dark and succumb to unconscious habituation. Establish clear boundaries such that if you cross them, you know you're at risk of falling into a pattern of addiction. And if that ever happens, it's time to immediately begin a new fasting period.
5. Let It Go
If you find yourself repeatedly succumbing to Social Media addiction or other negative usage patterns, you may decide it's best to simply do without. At the time of this writing, I no longer regularly participate in any online forums or message boards. When I clarified my intentions, I realized my #1 reason for participation was to contribute and to help people. But using forums as a contribution outlet was inefficient, since it would too often lead to lengthy (and mostly unproductive) debates. I found that sticking with one-to-many outlets like writing articles and maintaining a blog were a much better use of my time. Blog comments still allow some interactivity, but the time required to manage them is reasonable and the personal relevance of most blog comments is extremely high.
6. Replace Online Socialization With Face-to-Face Contact
Regarding the social aspect, Social Media is a poor substitute for meeting people in person. While there's certainly some social benefit to forums – many people have build great offline relationships thanks to Social Media participation, including me – it's important to physically spend time with human beings instead of via a computer screen. If you need a new social outlet, join a local club or association, especially one that meets weekly. I found that when I joined Toastmasters International and began attending meetings and competing in speech contests, my interest in socializing via online forums fell dramatically. Even the best online communication pales in comparison to face-to-face, belly-to-belly contact.
7. Be a Dabbler, Not a Fixture
Another tip is to treat Social Media participation as temporary. If your goal is to make new business contacts, then dive in and participate actively for a while, maybe 30-90 days. Make new friends and contacts, collect private contact info, and then look to take the relationship offline. Continue to develop your new relationships via one-to-one communication like email, phone calls, and if possible, face-to-face meetings (such as at industry conferences).
You can also use the dabbling method to gather general information on a subject. Seek out a number of relevant platforms and bookmark them. Then spend a few hours scanning each platform once every six months to soak up the current wisdom. Whenever you have a specific question, pop in and search the archives. If searching turns up a blank, feel free to post a new message, harvest the answers, and disappear.
8. Avoid Addiction
Social Media can be a tricky beast. At the time of this writing, my feeling is that ongoing daily participation in any single platform for more than a few months is almost invariably unproductive. Eventually the initial benefits like gaining knowledge and making new contacts produce diminishing returns. And then the negative effects like Social Media addiction set in. Regular participation (even from unconscious habituation) will still provide some benefits, but the longer you participate, the less efficiently those benefits are realized.
Close cousins of Social Media addiction include online gaming addiction, web surfing addiction, blog addiction, email addiction, and news addiction. The common pattern is that unconscious habituation overrides conscious, clear-headed decision-making. If you ever find yourself with such an unproductive habit, take steps to reassert conscious control. Use a period of fasting to regain your perspective, reexamine your motives, set clear boundaries, and find alternative outlets. Manage your forum usage consciously to serve your goals, and avoid the trap of addiction.
[callout]Social Media can be a powerful productivity tool, but self-awareness and discipline are required to prevent them from becoming a pitfall of procrastination.[/callout]