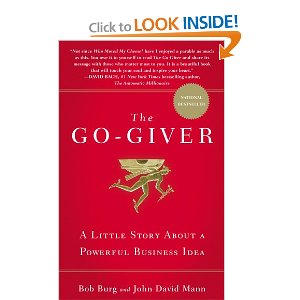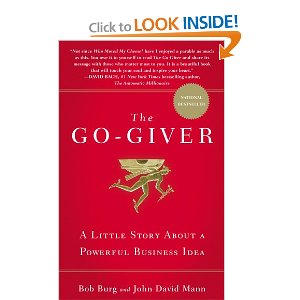 I read alot. About Two to Three books a week. Yet out of all the books that i have read, very few inspire me and move me in the way that The Go-Giver : A Little Story About A Powerful Business Idea  by @Bob Burg does.
In summary, the book is about what happens when you change your focus from getting to giving— when you start putting others interests first and when you strive to continually add value to other people's lives— when you do this you will start getting unexpected returns in your own life.
 Want to Succeed in Life and in Sales ? Give , Give and Give Some More:
As I read the book on my kindle and made notes in my moleskine (isn't that a contradiction?) these are some of the key things that i took away.
On Working:
There are the three universal reasons for working. Survive—to meet your basic living needs. Save—to go beyond your basic needs and expand your life. And serve—to make a contribution to the world around you.
Reasons for starting a business venture:
The first question in any business venture should thus be, 'Does it serve? Does it add value to others?' If the answer to that question is yes, then you can go ahead and ask, 'Does it make money?'"
Placing others interest first:
Because if you place the other person's interests first, your interests will always be taken care of. Always. Some people call it enlightened self-interest. Watch out for what other people need, with the faith that when you do, you'll get what you need."
Why your Income is directly proportional to how many people you serve and how well you serve them:
At the end of the day your income is determined by how many people you serve and how well you serve them. Or to put it another way, Your compensation is directly proportional to how many lives you touch.
If you have read the book , let me know how it has influenced you. Or just share with us what other books have inspired you in the comments below.