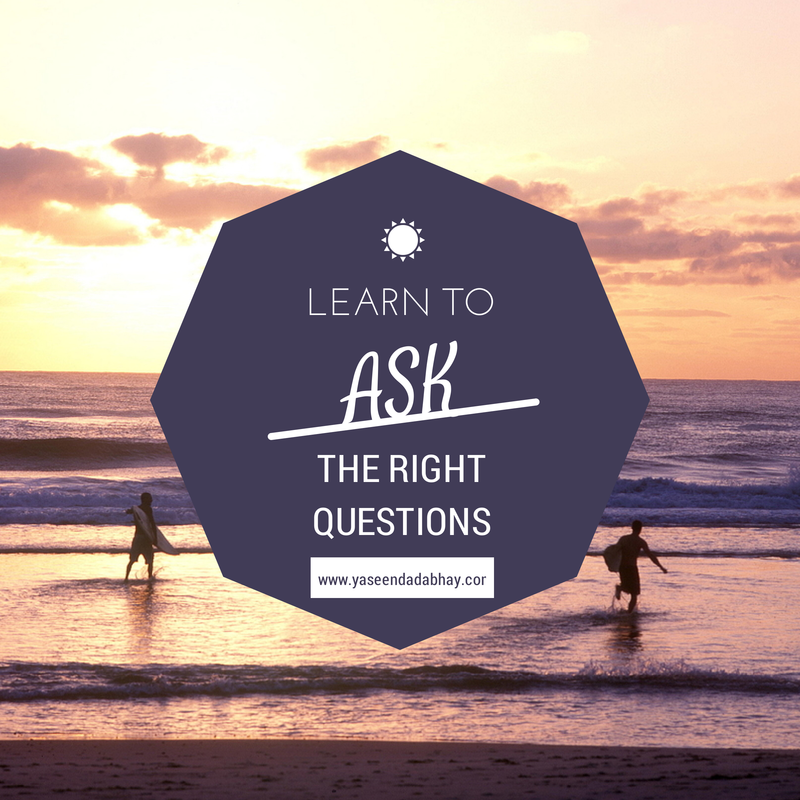 One of the first pieces of advice that most new leaders and managers and sales people get,   is that they should begin by learning to shut the heck up and listen.
Fair enough, that's really great advice.
However most of this advice  fails to deal with the fact that to really be able to get to a place where you are able to really deeply and effectively listen :  You need to be able to ask deep and insightful questions.
So one of the skills that I think that you really need to nail is this – You need to learn the art of  interviewing people and being able to ask great questions.
And one of the reasons that I say this : In the beginning when you are working with employees and clients, you are a unknown quantity and you still aren't a person that they trust. And they have as yet not decided that you are someone that they know and like enough to be able to trust and work with, and do business with.
So in many situations , whether those are client situations or meeting with employees, or your new team members – you will be talking to people, and sometimes when the subject is sensitive, you will be wanting to know more, but people wont be wanting to talk to you, because you are an outsider.
Learn from the Media how to ask great questions
It takes time to build a level of trust that people are comfortable with.
Which is why , when you look at the really , really great interviewers on T.V and I always think about David Frost , the interviews that he did with Richard Nixon when he got him to confess to the American people for example or the interview he did with the first President Bush (just after he became president) , and where he got him to really open up and talk about his life and subjects like his daughter that they lost to cancer.
SO if you look at the video below of Frost interviewing President Bush , what you can take away is that great interviewers are  really good at :
Asking the questions that allow them to stay on the subject.
They are able to look at subjects from different angles.
They are able to ask questions from different angles,
They are able to asking questions in different ways.
And they are able to do this so that the person that they are talking to, the person is allowed to express themselves while at the same time being able to realise that the questioner is not really trying to do them any harm.
That your agenda is just trying to learn what the issues are.
What you can take from this interview, is that really good interviewers like David Frost are able to build a process of trust through their questioning. They do this by not approaching the interview or the meeting in an adversarial manner , they don't come out all guns blazing, peppering the other person with aggressive questions, trying to be the prime alpha dog. They start by asking some very general questions, and then they start to peel the onion down in terms of details, then they are able to get down further and further and further, until they get to that insight and information that make people go: "Now i really understand the issues".
You can look at some interviewers , and see what they do , and you see how they do things, and what you will see is a process whereby they are peeling back the layer so to speak, to get to the kind of information or to the insight that they really think they need.
So you need to be able to start at the beginning with the general, because it just makes people more comfortable.
And it allows you to basically lay out your roadmap and to show people where you are going .
So start with things that are easy for people to answer, that are non threatening. This approach will help you to build trust and to establish some credibility –  and really from that base , you can then start to move into the detailed questions, the questions that that will illicit the answers you are looking for.
Great questions start with being prepared:
Want to ask great questions?
The art of asking great questions starts with you being  starts with being prepared.
So whether you are interviewing someone as a part of a project or a part of the sales process or even if you are just hiring someone for the job, you really need to start with the mindset that I am going into this with the aim of finding , this, this and that out.
And since most of us don't really have the capability and mental capacity to keep all those questions and thoughts in our head, it is much better to go into the meeting or interview with a list of questions that you have already prepared.
Start with a list of of questions that are centred around the subject of the meeting so that you have a roadmap of where you are going.
More importantly it also sends a strong message to the other person, whether it is a employee or a client or a candidate – when you are able to walk in , and you are all prepared and ready to go.
Getting down your questions on paper also allows you to be prepared to understand what you think you are going to hear. And so that you can move those questions through the conversation is a way that is quick and efficient.
Ask Burning Questions to get to the issue:
In his book "Winning the Professional Services Sale",  the author Michael Mclaughlin talks about the three types of burning questions that every client will ask  outright , or even if they don't ask will still be thinking in their head :
Do you understand what we need
Can you do what you claim
And will you work well for us, will you be a good fit
And really for the question "Do you understand what we need" , you can only really answer that  by first asking your own set of really deep , insightful questions about the issues that your employees or clients are facing .
Start by questioning them about what they believe is the issue that they are facing ; or with clients start by questioning them about what  was the real reason that had them call you or bring you into their business in the first place?
Then you can follow that up by asking a series of questions such as : "How do you know that , that's really the issue", "How do you know that you need me or my company" , and so that just facilitates an even deeper conversation about  "how do we know, that this is a problem, how do we get at this being our reason for our call to you?"
In this way by asking great questions you will be able to get to the point where you are able to say: "are we really dealing with the issues here or are we just dealing with the symptoms?"
So once you are able to ask a great question about how you know that this is really the problem, you have essentially just gone and created a conversation or dynamic where you are really dealing with the issues that they want to deal with.
Through this process of asking deep , insightful questions, you will be better able to understand what peoples issues are , and whether or not you are dealing with the real issue.  Further, you will be able to demonstrate through your questions and then through your answers that you really understand what they are really facing.
And thus you will be able to help people see that the issues that they think they are facing are not really the ones that they are actually facing.
Further Reading :
[callout]SO TELL ME: What are you going to do today to start asking more effective and deper questions to build great relationships? Share this post, then leave me a comment below and tell me how what questions you ask that lead to deeper insight [/callout]