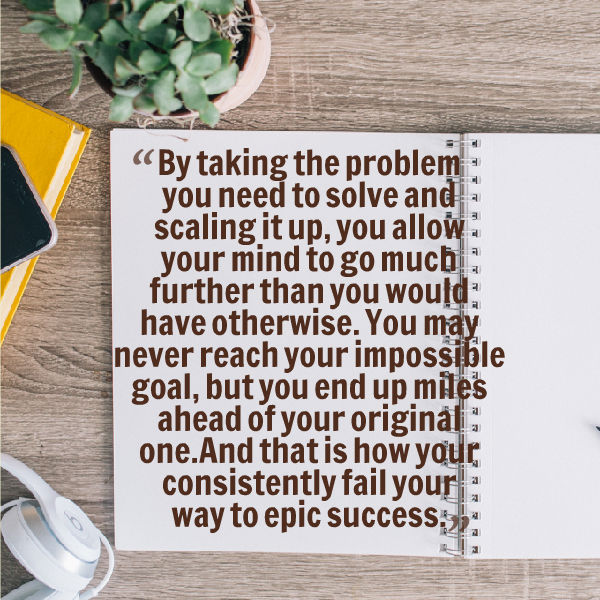 There's a whole industry dedicated to success and goal setting filled with really smart professionals and coaches that want to help you achieve everything you've ever wanted.
I've spent a lot of time researching goal setting myself and learning all the insider tips to getting me closer to the success I want. When you average out all the advice out there, you end up with a commonly accepted method that looks something like this:
Set a goal that's high enough to make you stretch to reach it, but not so high that you'll never achieve it.
In a lot of ways, that's pretty good advice. It gets you to go beyond your comfort zone, but keeps you from giving up on something that would be too hard otherwise. It fits right in the sweet spot of human psychology.
You and me, though? We're risk-takers. We're wired a little different and, for one reason or another, conventional "good advice" just doesn't suit us all that well.
Personally, whenever I accomplish a goal, the thrill of achieving it is usually quickly overshadowed by wondering how much I left on the table.
"What if I'd set the bar just a little higher? Would I still have made it?"
I don't really like achieving something that felt like it was too easy.
That's why I propose an alternative goal setting strategy for those of us who just aren't ever completely satisfied with our own accomplishments. We'll call it the "Lunar Landing Strategy" because it's based on that cliché saying, "Shoot for the moon and even if you miss, you'll land among the stars."
A bit cheesy, yes, and also astronomically incorrect since the stars are much further away than the moon, but I think you get the idea.
So here's how it works:
When you set a goal, you start off with that reasonable method we went over earlier. Make it just hard enough that you think you'll have to stretch yourself, but not so hard that you don't think you can succeed. Then you bump it up a few more notches. Then a few more. Keep going; don't be shy.
Keep doing this until you're positive that you're goal is completely and absolutely unattainable. This is the goal you're going to pursue relentlessly.
Now, take however much time you need to allow yourself to believe that it's actually possible for you to succeed. That's a critical step. If you need to meditate, then meditate. If you need to give yourself daily positive affirmations, then do that. Find out what you need to do to really believe in yourself and do it regularly.
Allowing yourself a glimmer of hope that your new goal can actually be achieved with a bit of divine intervention is imperative as it keeps you actually attempting to go after it. This method won't work without this step.
Now, here's what usually happens:
You bust your ass on that impossible goal and miss it entirely. I mean you don't even come close. Total failure? No, no. Hear me out.
You see, nine times out of ten, even though you miss your inflated goal, you end up blowing your original "reasonable" goal out of the water. That's what the LLS (Lunar Landing Strategy) is all about.
Here's a diagram on a napkin that illustrates the idea well :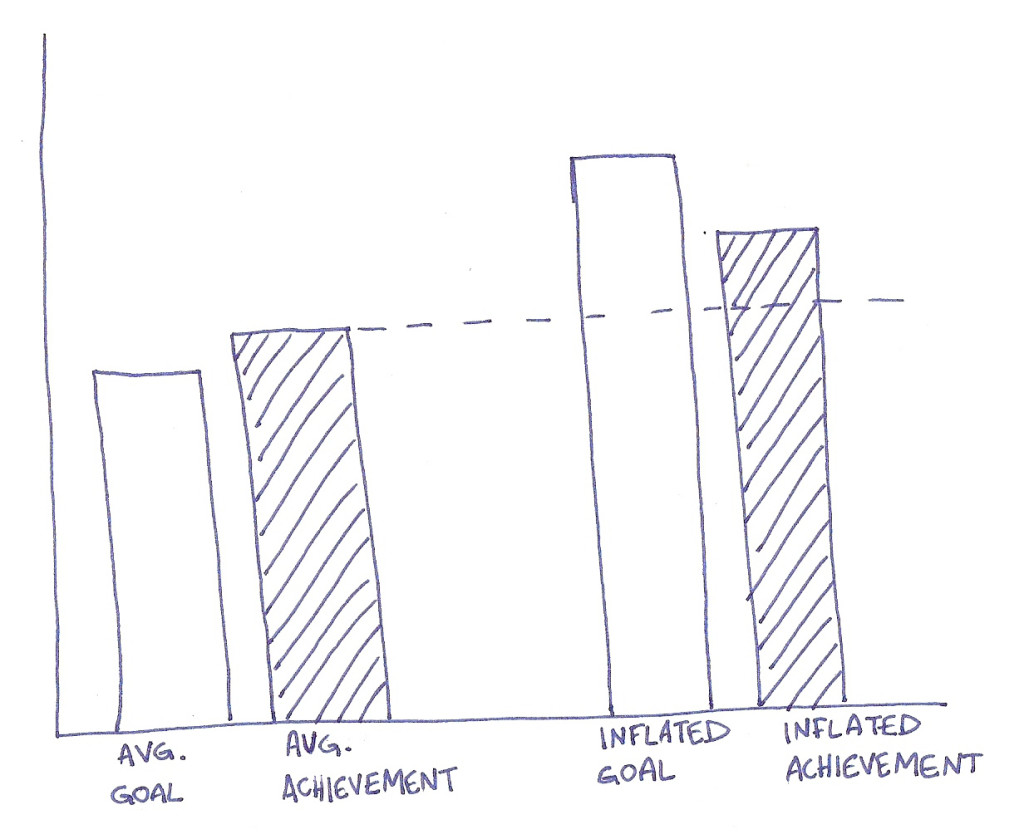 Do you see what happens there? The power of dreaming big has a huge psychological impact on people. In most cases, we're able to scale our achievement just based on the level that we set our own bar at. The sky really is the limit.
As humans, when we define a problem that needs to be fixed, that's what we do. We fix it. Nothing more, nothing less. Rarely, do we go above and beyond that in our normal course of action.
By taking the problem you need to solve and scaling it up, you allow your mind to go much further than you would have otherwise. You may never reach your impossible goal, but you end up miles ahead of your original one.
And that is how your consistently fail your way to epic success.
Over to you: What advice do you have about setting epic goals?