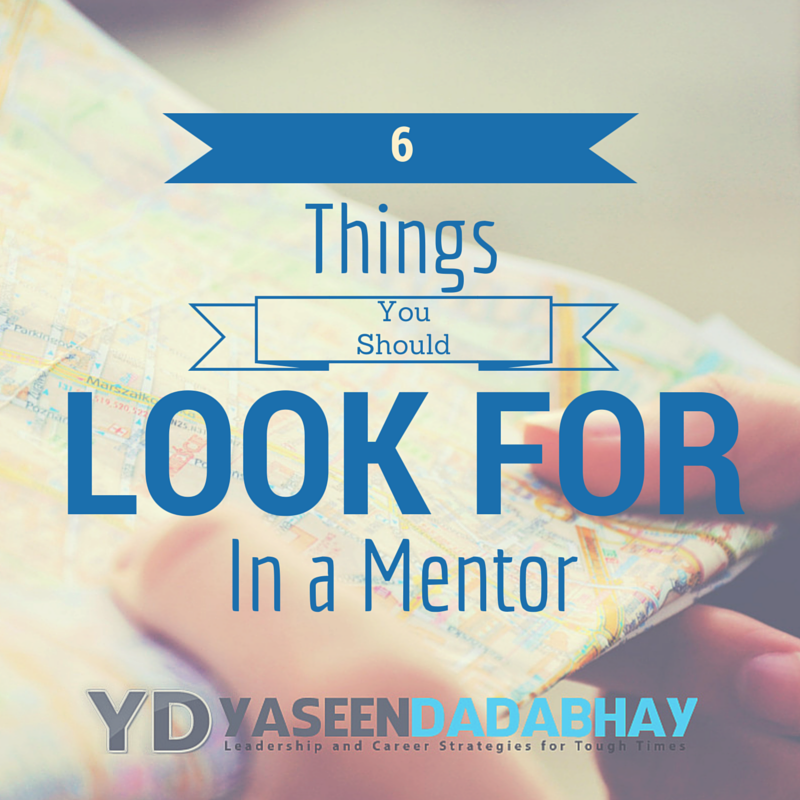 As with any other kind of relationship (business or personal), one of the important things you should look for when seeking a mentor us chemistry. You really want to find a mentor you feel comfortable talking to and who you think can connect with your career concerns. On top of that there are 6 things you should look for in a mentor:
Is respected by others and respects others too – Your goal is to find a mentor who is well established in his field and has clout and connections that you can make use of.
Your mentor must believe in you – A mentor who has any doubts about you is not going to make you feel any better about a sticky career situation. Your mentor must be someone who can be your champion and he/she should want you to get ahead, because they think that you are talented and capable.
Your mentor should be accessible – While email and phone calls are fine. The ideal situation would be to meet up with your mentor in person from time to time.
Your mentor should be able to hold you accountable – A good mentor will never allow you to diminish his advice and will always get tough with you when necessary about your career goals or your career action plan.
Your mentor should be someone with a positive attitude – A mentor who is a eternal pessimist or who has a bleak outlook on your talents or your industry is not going to instill in you the confidence and optimism you need to make great career leaps.
Your mentor must be someone who is known for their discreetness – Anything you tell your mentor should be held in the strictest confidence, and you should never worry that your most private career thoughts will leak into the public sphere and damage your career.
What is the one thing that you can do today that you have learnt from this post? Comment Below!