If you are a Photoshop user like me, and find yourself rebooting back into Windows , or having to contend with a Virtual Machine to run your favourite graphics app, then this guide will help you install Photoshop CC in Linux, and get it running.
It works for me running Linux Mint 17.2 on my desktop and Ubuntu 15.04 on my laptop – but your mileage may vary
Firstly, note that this guide is for Photoshop CC 2014, and not the newly released 2015 version – as the new version currently wont install on Ubuntu or Mint for me.
However, that is not that big of a deal, as I can live without most of the "new features".

Download Photoshop CC 2014
As the 2014 version of Photoshop CC has been replaced on Adobe's site by the 2015 version, you can no longer download any of the 2014 versions directly from Adobe.
However the kind people over at Pro Design Tools, have been good enough to host stand alone versions of Photoshop CC 2014.
Note : I have only tested this on the 32bit version of Photoshop, so if you are looking to use the 64bit version, it may or may not work.
Please note that you will need either a paid up subscription to Photoshop , or at the very least a Adobe Login ID , so that you can install the 30 day trial. If you are looking to install a cracked version of Photoshop CC, you are out of  luck.
Install Photoshop CC via PlayOnLinux
Once you have downloaded Photoshop, you are ready to go.
Firstly, you need to make sure that you have Playonlinux  installed. You caninstall it via the Software Manager on Mint, or the Ubuntu Software Center (On Ubuntu).
Run Playonlinux, and first click on  click on Tools Menu and Select Wine Versions. Under available Wine versions find 1.7.41-PhotoshopBrushes and select it, and then click on the > arrow to Install it.
Once, you are done installing it, go back to the Main PlayonLinux window, and lick on the install button, and then on "Install non listed programme" (you can find this in the bottom left hand corner)
A new box will appear.  Click "Next"
Choose "Install a program in a new virtual drive"
Next you need to name Photoshop's Virtual Drive (I named mines PhotoshopCC)
Make sure that you tick all of the following :
Use another Version of Wine
Configure wine
Install some librarys
Click next and choose the wine version "1.7.41-PhotoshopBrushes" (if it is not listed, you need to go back, and follow the instructions above to install it.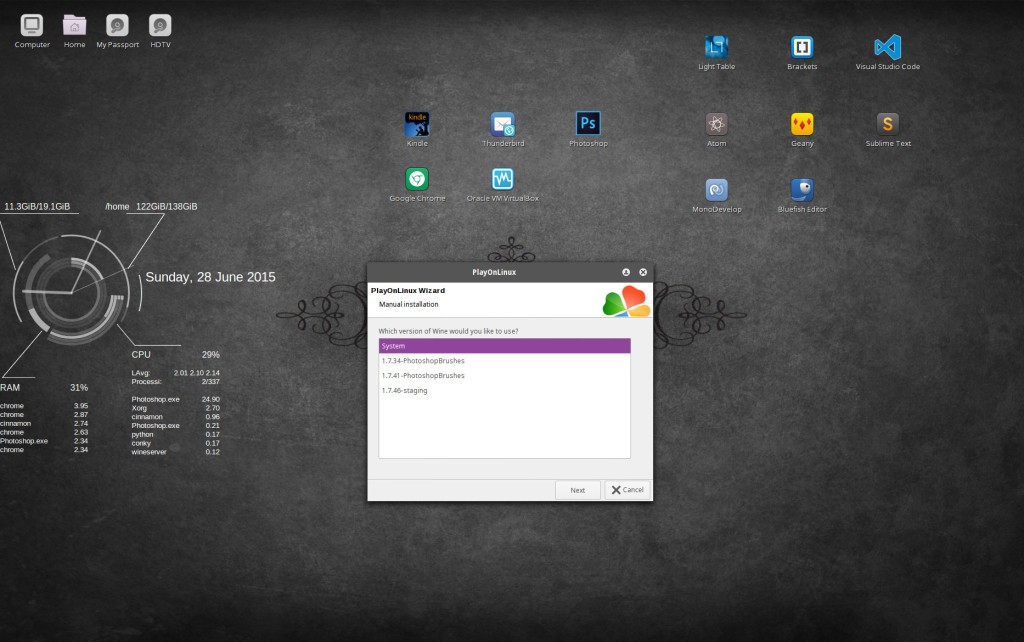 Next Select the 32bit choice. You will then be given the choice of which version of Windows to run Photoshop under. Make sure that you chose Windows 7, and not the default of XP.
The next section is a bit involved, and you need to select the relevant windows libraries that Photoshop needs to run correctly. Tick the boxes to the following library's :
POL_Install_atmlib
POL_Install_corefonts
POL_Install_FontsSmoothRGB
POL_Install_gdiplus
POL_Install_msxml3
POL_Install_msxml6
POL_Install_tahoma2
POL_Install_vcrun2008
POL_Install_vcrun2010
POL_Install_vcrun2012
Once you have ticked all of the above boxes, you can click on NEXT.
Now you need to browse to the Photoshop CC setup file that you downloaded above. Select it and begin the installation.
Photoshop will begin the installation process.
If you are running the 30 trial version and you DO NOT have your sign in details on hand, you will need to disconnect your internet connection to proceed. Once you have disconnected,  click sign in, wait for the error message and then click "sign in later.
For some users, the installation bar will disappear before it reaches the end, and a error message will popup. If this happens, dont panic – the installation is still running in the background (you can look at your Hard Disc light or listen to your disc working to see that it is still installing).
So wait a couple of minutes (5 should be safe), and click next.
Finally , you can name your shortcut in PlayOnLinux, and you will get a Photoshop Icon on your desktop.
N.B : If a function such as the "Liquify tool" does not work correctly, simply go into Preferences>Performance and UNtick "use graphics processor"
You now have a working 30day trial.You will need to buy it if you wish to continue use after the 30days