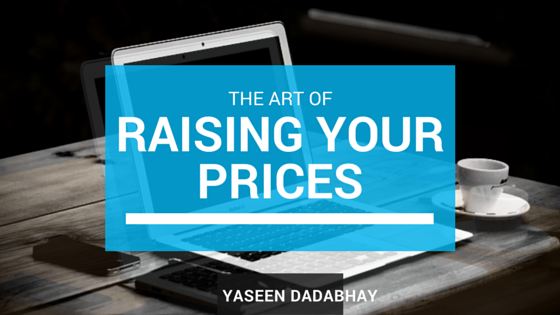 Want an instant way to increase profits for your business? Just raise your prices. I could write a whole book on why you should do this. But, luckily someone already has done that. The book is by Larry Steinmetz and it's called "How To Sell At Prices Higher Than Your Competitors". This is a must read!
Here are some of my thoughts on pricing…
First off, people don't buy the cheapest things. They say they do, they think they do, but they don't.
Think about it.
If price were the only reason anybody bought anything, then only one seller would sell all there is that's sold, whatever that stuff is, and that's whoever could survive the longest at the lowest price until everybody else went broke.
While i am over generalising… many times your buyers make good liars. 
They are good at telling people, i.e. salespeople, that they can get the same thing cheaper down the street. Which, 9 times out of 10, is not true.
Fundamentally, what they're trying to do is beat up the sales rep to get them to cut their own price. And price cutting is a self inflicted wound. Price cutting is something the salesperson, and/or the business does to itself.
Competition does not cut price. If your client thinks that his competitors are the ones cutting his prices or his competitors are the one who keeps him from raising prices, why don't you just have him call up his competitors and ask them if it's all right with them if he raises his prices. I've got a funny feeling they'll say go for it.
If You Live By Price You Die By Price – Someone will always be willing to charge a smaller price. When they undercut your price, you will have to lower your price even more. The process will never end…until you go broke.
Price Is Not The Reasons People Buy – Contrary to popular belief, low prices is not the main reason people buy things. They may tell you it is, but they are lying. If it were true, everyone would be driving around in the cheapest car. The cheapest clothes. Cheapest house. So on and so forth. But we're not. Which proves price is not the main factor.
You Get What You Pay For – There is a percentage of the population that ONLY buys the most expensive things. Either for status (think Rolex, exotic cars) or because they associate price with quality. Whether it's true or not, some people assume that the most expensive product or service is the best product or service.
Think about it. If you needed brain surgery, would you go looking for low price bids? I doubt it
Most businesses get their pricing strategy by looking at their competitors. They see what everyone is charging and then they usually pick the middle price point.
I'll give you an example of a very successful company lowering their prices. Years ago, McDonalds came out with their $1 menu. But, 2 months after they released their $1 menu, they (and this was in a report of THEIRS, so this is not me saying it) determined that "charging people only a dollar for a burger tends to lower profit margins."
Shortly after, they posted their 1 st quarterly loss in 38 years as a public company.
If you don't know, they got this pricing strategy from Wendy's. It was a reactive price strategy because they lacked better marketing and a selling system in order to sell at a higher price point. There was no analysis of what might happen if they did sell things at a buck. They just did it.
Even a company as successful as McDonalds realized selling at cheaper prices isn't the best move.
By the way, before you throw out the "But Walmart sells at low prices" argument, they are a very rare exception. And even they are toying with the idea of selling things at higher prices. Think about it. They want to remain the low price leader but THEIR expenses keep going up. I see a problem there.
Here is a quick example, if a business wants to make $200,000 a year, if they do it at $100 a pop they're going to need 2000 sales. If they do it at $5,000 they need 40 sales. What do you think is harder…selling 2000 or 40? Selling 2000 is harder at any price. And it's harder for a lot of reasons…
You need to ship 2000 units
Inventory of 2000 units
Returns of 2000 units
Keep accounts on 2000 units
You also need to know that you can't fix bad economics with good marketing. Sometimes, if you double the results you're still in the red. And that's if you can even double the results in the first place.
Even when a business is advertising, a lot of them think they can just "fix the ad" and everything will be fine. Sometimes you can't fix the ad, you have to fix the marketing. You fix the marketing by raising the price, adding an upsell, selling to them more often, etc.
Some people think they can cut prices and then make it up in volume. Hah, thanks for the laugh. Speaking of…
Oldest Joke In Selling: It's the one about the guy that's buying watermelons at $1 each and selling them for $10 a dozen out of the back of his truck. The punch line is "we need a bigger truck."
Always remember, if they're selling too much too easy, their prices are too low. Business is a game of margins. Not a game of volume. If you maintain margins, you're going to be profitable.
Now, the higher your selling price versus the cost, the more money you're going to make on any given sale.
And this notion of making it up in volume is that we'll make less money on each sale, but will sell a lot of it. But keep this in mind. The word volume means more work in the same period of time. If you're going to cut price and make it up in volume, then you have just decided that you're going to have to sell one heck of a lot more product in the same period of time.
Because if you string out the time period, then you're just making less money in any given time period because you've lowered your margins.
When a business cuts prices, they will probably start selling more and then what happens? Well, then customers start getting unhappy. They don't get any service. They don't get attended to. They don't get waited on, whatever it is. Then employees start complaining "we need more help!!"
So the company hires more people. Now their wage's goes up even higher. Squeezing that margin between the selling price and the cost and pretty soon the profitability is gone.
Let's pretend you decide to raise your prices.
One of three things is going to happen when you raise prices. Sales go up, sales stay the same, or sales will go down. And every one will immediately think sales will go down. Sales won't necessarily go down.
Normally the sales volume will stay the same or go up. Then you will find that the profitability will increase drastically. But most people don't have guts to raise prices. They're so terrified of losing sales and the first thing they think is, "if we raise prices, we'll lose all our sales."
You're not going to lose all your sales. If you're going to lose all your sales, how's anybody gotten away with price increases in the past hundred years? What you've got to do is have courage enough to raise your price and be convinced that you're going to get it.
The way you handles your prices will largely determine the probability that you'll get that price. If you have the attitude of "well I don't suppose my customers would want to pay that much". Then guess what, you are right! They won't want to pay that much.
I could go on and on about this topic. But I think I've covered enough. Don't forget to grab a copy of the book by Larry Steinmetz called "How To Sell At Prices Higher Than Your Competitors".