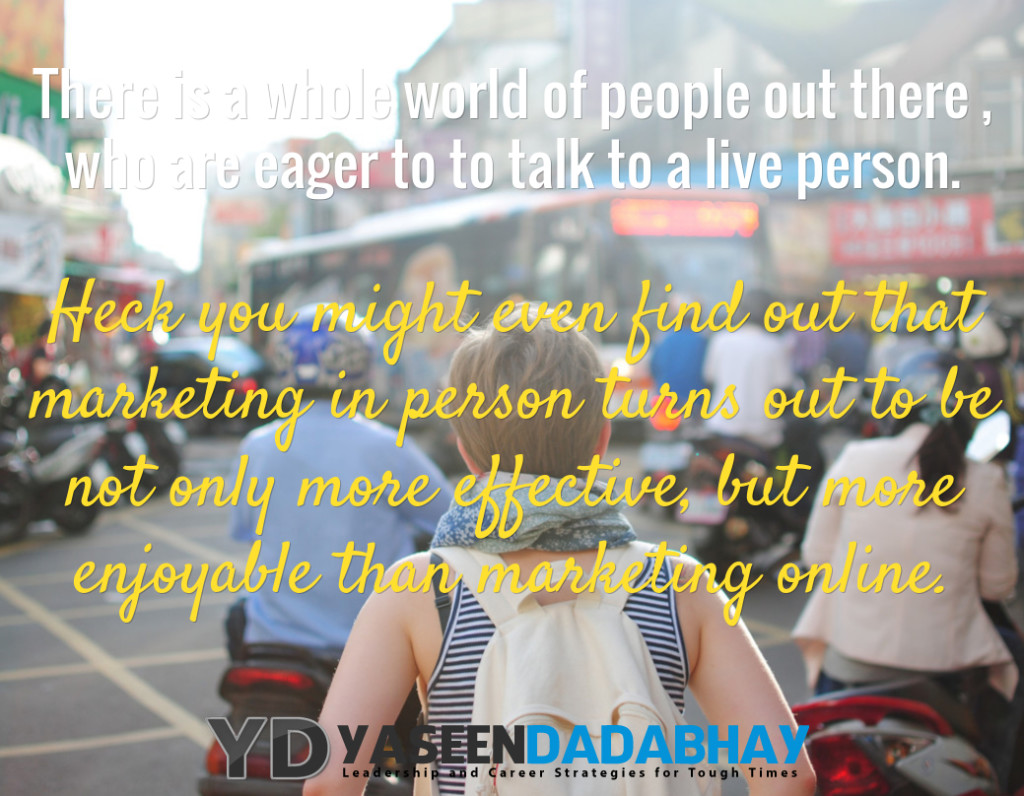 If you look at book descriptions on Amazon, the sales pages for most on-line marketing courses , or Social Media Profiles of the gurus — you often see these kinds of claims: "This is the system I used to generate a seven-figure cash flow in the last 60 days while i set on the beach somewhere in Costa Rica."
Its the Four Hour Work Week dream.
Afterall, every business owner would love to make seven figures, so when we see these sales pages promising us a seven figure income, a drastically reduced work week, and the opportunity to kick it to the corporate man  – we are sorely tempted to buy into it.
Fast forward six months and thousands of dollars in wasted money later, and this is what I heard from a client:
I have spent tons of money hiring someone to design a great website , do SEO for me, and I publish a regular blog with great content. But no matter what i do I am not getting any clients from it. The only new client I got this month was a referral from a friend.
This is one of the most common complaints i hear from new entrepreneurs, self-employed professionals, coaches and consultants. They spend an inordinate amount of time, money and effort on Internet marketing and Social Media, and they have nothing to show for it.
You follow the gurus and experts, you pay thousands of dollars to attend a seminar, you build your snazzily designed website, you launch your blog to great fanfare, you spend time creating a great ebook to build a list, and you spend all of your waking time , trying to build a optimised profile on LinkedIn, Twitter and Facebook.
And yet for all that hard-work and effort, you don't have much to show for it.
So what the ?!uck is going on?
With all the hype about Internet and Social Media Marketing, all the gurus preaching from the pulpit of the church of Social Media Marketing , it is easy as a Small Business owner to lose sight of some of the basic marketing and business principles that all great businesses are built on.
And advertising is, as i am sure you know, one of the least effective marketing strategies most small businesses and professional service owners can use.
The problem with putting up a website or blog that simply says "hire me" without any educational or interactive content is that you are just putting up a large , expensive ad.
You really have to put lots of effort into attracting people to visit, or else your ad wont have much circulation.
For me, this is the biggest problem in Internet marketing today. There's a ton of great advice and systems that will work BUT only when your online presence gets to a certain point.
And if your posts or broadcasts (social media posts, autoresponder mails, text ads etc) contain little helpful content for the reader, then they also fall into the category of useless advertising
So i hear you ask – If advertising is at the bottom of the list as far as business building and marketing effectiveness, what's at the top?
For self-employed professionals or service business owners, the three most effective marketing strategies, in this order, are:
Making Direct personal Contact with your prospects.
Good old networking and referral building.
Public speaking.
Of course i hear you say, dont be daft – all three of these strategies can be employed online. We can send personal emails to prospects and referral sources, we can make networking contacts via email and LinkedIn , and we can speak to our audience via webinars.
Of course, you can – and you should.
But why limit those strategies to the Internet?
For most independent professionals, small business owners, and professional service businesses, making direct contact with potential clients is more effective in person and on the phone, than it is by email. The same is true of networking and referral building. Even though it may begin with an online contact, these strategies really get their power from the personal relationships that you build when you interact with clients one-on-one.
Look, webinars and other virtual public speaking are great for reaching people outside your area.
But when most of your clients are local, then speaking to them in person has a much larger impact.
And my client who complained that online marketing was not working for him , just completely waltzed by what was working.
A real offline referral.
Questioning him, i learned that a friend had referred him business. He had lunch with his friend, and shortly thereafter his friend had sent him the referral.
If it was me, and that had provided me a client, and not my website – i would be scheduling more offline lunches, than spending more time online.
Now that we have a toddler, we are often invited to Sunday lunch with other parents who have kids the same age as our little one.
At a recent lunch invitation i started talking one of the other kids father, and i learned that he was a CEO of a pharmaceutical company – i shared with him that that i had previously spent time leading HR across 12 Countries for Walgreens/Boots.
We started talking about his companies challenge recruiting pharmacists , doctors and researchers – one thing led to another, and i left the lunch with a contract for nearly $45 000 to help them put together a talent acquisition system in place, and to help them to recruit candidates.
Sure, the online world and Social Media marketing, can be a really great channel for your marketing – but really for most businesses across the globe, its not nirvana – let alone the universe.
Think about it –  as recently as fifteen years ago, millions of companies and professionals were successfully marketing their businesses and their services without using the web at all.
When we started our business , there was no LinkedIn or Twitter, or Facebook . We called customers on the phone (hard to believe but the phone was actually used for talking to people back then), we sent direct mail letters, and we met prospects and clients in person. We had coffee with referral sources, and spoke to real live people in offline venues.
And here is the biggest reveal of all.
Heck in many countries with potentially huge markets, Social Media and Online marketing dont make much sense – Internet access is limited, or very expensive and potential customers don't spend time browsing the web making buying decisions.
As to the Million Dollar question, as to whether online marketing is somehow more effective and cheaper to use than traditional marketing?
The answer lies in understanding that the Internet is not a marketing strategy.
Wait, let me repeat that for you.
The Internet is not a marketing strategy.
It is a marketing channel , like direct mail or the telephone or brochures.
And just like other marketing channels , its power depends on the way you use it.
Not on whether you use it or not.
The same basic principles of marketing that applied twenty years ago, still apply – regardless of what marketing channels you use.
So what does work?
For me personally, and for clients that i work with, the most effective strategies are those that include personal contact with potential prospects, and those that build trust and credibility – like the three i mentioned above.
If you believe that you can do those things much better and more efficiently with a greater ROI online than on the phone or in person, then by all means use the web and Social Media for your marketing.
But before choosing to rely on the Internet as your sole source of clients, consider the following .
Social Media Marketing Isnt Always the Answer
Stop using marketing your business exclusively online as a handy excuse for not talking to people. I know that it can be all too easy to hide out behind Twitter, Facebook, email and your blog, and never having to experience rejection or having to step outside your comfort zone.
Take a look at Amazon , and you will see hundreds of books with the aim of helping people overcome the fear of engaging in old fashion marketing channels like cold calling.
That's because for most of us — calling strangers on the phone, having to attend networking events with people we dont know, asking people to lunch – can be much more intimidating, much more fear inducing.
And yet, those live , personal one on one conversations , may be just what your business and your marketing needs to take off.
Take it from someone that is as introverted as they come. As a INFJ , i find it emotionally draining to have to interact with people i dont know.
Yet when we started our business back in the prehistoric pre-internet days, i had no choice but to go out and meet prospects, call people, network , so that we could grow our business. If we did not, then we would have been out of business very quickly.
For those of you who feel stuck about getting clients, try taking a vacation from Social Media and the web.
Instead hit the phone, and get out of your office.
There is a whole world of people out there , who are eager to to talk to a live person. Heck you might even find out that marketing in person turns out to be not only more effective, but more enjoyable than marketing online.