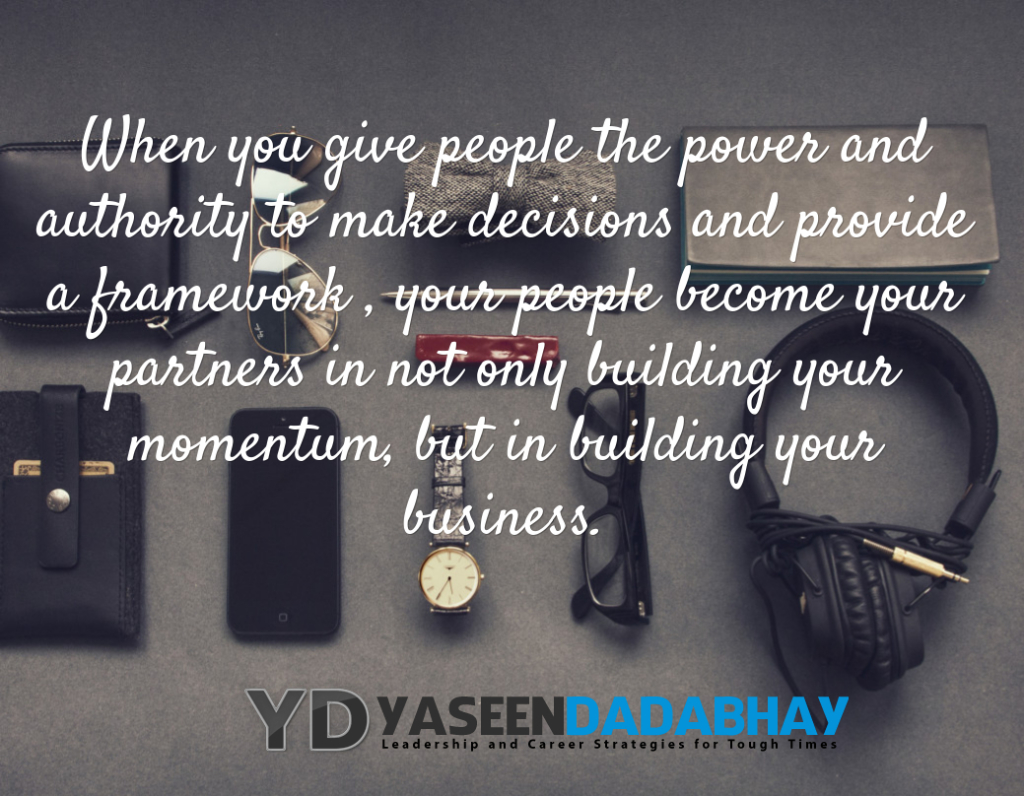 In my previous blog post i wrote that in order for your business to be able to compete against the giants, you as the leader , manager or small business owner cannot build positive momentum for your business if you try to carry the organisation on your back. You have to empower your employees to act.
I remember when we started out in business – for the first few years, we succeeded by being on overdrive and pushing everyone to their limits. We would get to work at 4:30 am in the morning and I was usually the last person to turn out the lights.
Eventually the company grew so large and faced issues that were bigger than we could fix by drive and determination. We had to empower other people in the business to make choices and to do so according to their shared values.
What i learned was that when you give people the power and authority to make decisions and provide a framework , your people become your partners in not only building your momentum, but in building your business.
When you dont, you doom your business to fail.

One of the retail operations managers i worked with at a multi billion dollar retailer, couldnt let go and let his store managers  run their own stores. He directed everything, over rode all of their decisions (from merchandising to hiring), and second guessed every person in the store. His region started with great promise, but over time, as store morale sank, the regions sales and profitability sank too – Because he could not empower his people.
The thing is, this manager was really smart and a better operator than 80% of the people i have ever worked with. The problem was that he thought that he could do other peoples jobs better than they could. He also did not want to accept an answer that was not the one that he wanted, even if it was the truth.Eventually more than half his senior store management staff left.
I see this quite a lot. When leaders are unwilling to empower their teams, it creates a significant drag on the  business.
When your business loses momentum, it is easy to blame the economy, market pressure or bad luck. But one of the reasons may also be that your people are not empowered to do their jobs. Start by examining your own motives. Whatever the challenges in your business, think about whether you can let go, and what is the worst that can happen if you do.
If you don't have the right people in place, hire them. If you are over managing them. take a step back. Talk to your people about your missions and values – these should become the framework for their decisions.
once you have done this,spend time coaching them. Don't be the reason that people lose heart. Encourage them to take risks- to act-and always remind them of the mission, purpose and values by which they should make those choices.
Without empowerment, there is no real commitment, and your business momentum will die.