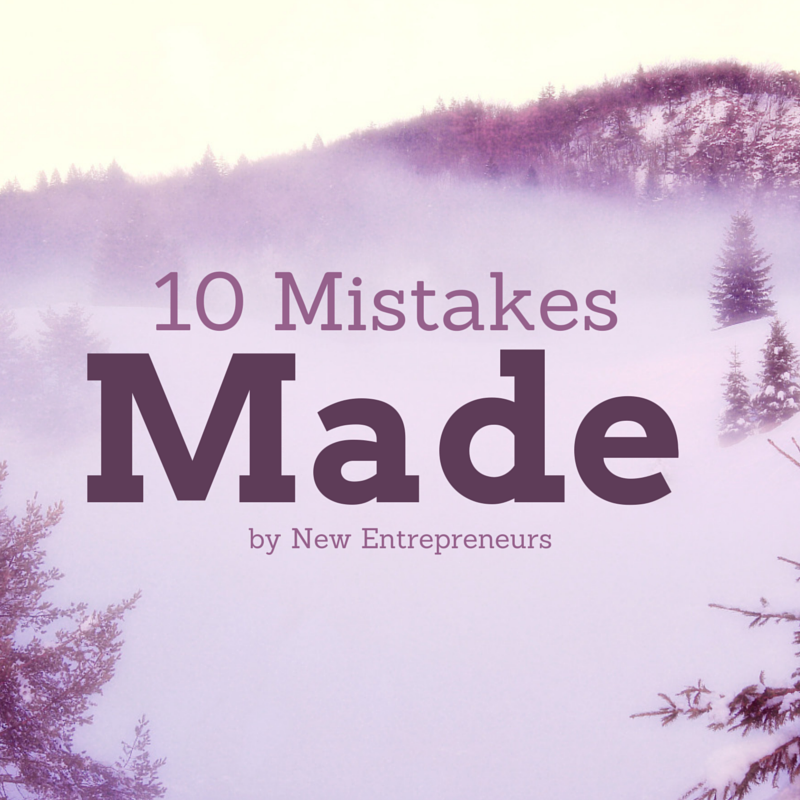 If you have been a business owner for any length of time, than like me, i am sure that you have made your share of some really dumb and stupid business mistakes.  I've also coached a number of people to start their own businesses, and I've seen many of them make similar mistakes.  This advice is geared towards small business owners, particularly people who are just starting (or about to start) their own business.
1.  Stop selling to the wrong people.
When you start your business, people will tell you that sales are vitally, vitally important to the survival of your business. They are not wrong. But here's the thing – the worst thing you can do is to try to push your business on everyone you meet, especially your friends and family. It really is a waste of your time and efforts to try selling to people who simply don't need what you're offering.
I have learned that some clients are much harder to work with than others.  If a potential customer is broke and obsessively worried about every nickel they spend,  then they won't be a good client in the long run(though there are exceptions to the rule). Michael Port in his book , Book Yourself Solid advises that you should implement a Red Velvet Policy , where you should feel free to say no to customers that are more trouble than they're worth.  Let your competitors sell to them instead.  You'll save yourself many headaches, and you'll free up more time to focus on serving the best customers.
When you are starting out, you will meet many people who will express an interest in doing business with you. Here's the thing – just because someone is interested in doing business with you that doesn't mean you should accept.  In my first year in business, I probably said yes to at least 50% of the people who approached me with a potential business relationship.  I wasted a lot of time pursuing deals that were too much of a stretch to begin with.  I accepted lunch invitations from random business people who just wanted to "see if there's a way we could do something together."  Virtually none of them made me a dime.  If you think a meeting is pointless, it probably is.  Don't network with random people just because you think you're supposed to network.  Today I accept such invitations less than 1/10 as often.  If an offer doesn't excite me right away, I usually decline or ignore it.  Most relationships simply aren't worth pursuing.  Learn to say no to the weak opportunities so you have the capacity to say yes to the golden opportunities.
2.  Don't Spend too much money.
Until you have a steady cash-flow coming in, don't spend your precious start-up cash unless it's absolutely necessary.  When you are just starting out, your cash has a real way of  going a fast; Sometimes you will find out that the original business model doesn't work, and you will end up going back to the drawing board. The last thing you want is to have unnecessary expenses while you are refining your business model. Just remember that every dollar invested in the business is another dollar that eventually has to be recouped from sales.
Unlike our family business, when i started consulting i literally started with less than $100 in expenses , even though I could have spent much more on it.  I did not have a need for a fancy logo , nor a expensive web design, no business cards or stationery either.  I paid to register the domain name, and that was it.  That's as much as I was willing to spend before I started generating a positive cash-flow.  All other business expenditures came out of that cash-flow.
The purpose of your business is to put cash INTO your pocket , not out of it. So before you invest money into your business, you should have a clear idea of how you are going to pull that cash back out again.
Obviously some businesses, like our family business required a lot of cash to start, but in the age of the Internet business, you can very easily start a lucrative business for pocket change.
3.  Don't spend too little money.
It's also a mistake to be too stingy with your cash.  Don't let frugality get in the way of efficiency.  Take advantage of skilled contractors who can do certain tasks more efficiently than you can.  Buy decent equipment when it's clear you'll get your money's worth.  You don't have to overspend on fancy furniture, but get functional furniture that helps you be more productive.  Don't use an antiquated computer with outdated software that slows you down if you can afford something better.
It takes time to develop the wisdom to know when you're being too tight or too loose with your cash, so if you're just starting out, get a second opinion.  Often the very thought of getting a second opinion makes the correct choice clear.  If you can't justify the expenditure to someone you respect, it's probably a mistake.  On the other hand, there are situations where it's hard to justify not spending the cash.
4.  Don't put on a fake front.
I notice that many one-person businesses tend to refer to themselves as "we."  That's something a lot of new entrepreneurs do, but really,  it isn't necessary.  You have started a business – that is something you should be proud of. Even if it is only a one-person operation. You had the guts to do what most people, couldn't or wouldn't. Our family businesses could never have grown to the sizes they are without the hundreds of dedicated, engaged employees , but my consulting business is very much still an I. Especially in today's Internet business world, it is perfectly OK to refer to your business as an I when you're the only one working in it.  Pretending that you're a we when you're really an I is a bit silly.  It's not going to gain you any respect in a way that matters.  I tend to see Promoting yourself as an I as a major competitive advantage – since my clients know that the buck stops with me (unlike the giant consulting firms) When i make a promise, they know that i am the one who will carry it out.
If you're a newly self-employed person, don't pretend you're anything else.  Learn to price your products and services fairly for your level of skills and talents. When coaching new business owners, i see that some of  them think they must become actors.  They believe that in order to succeed they need to promote some kind of "fantasy" vision of their business to potential customers. Trying to fool your customers in this manner will only backfire. Your customers all started out small at one point, and you will find that most will love to give a chance to someone else.
If you're so desperate for business that you need to lie, you shouldn't be starting your own business.  If you can't provide real value and charge fairly for it, don't play the game of business.  Develop your skills a bit more first.
5.  Don't EVER assume a signed contract will be honored.
If i learned one thing from law school , then it is this. Don't EVER assume a signed contract will be honored.  I've made this mistake more than I care to admit, and it is a mistake that i see rookie entrepreneurs making all of the time.   I've had signed contracts with major corporations, and they weren't worth the paper they were printed on, when the CEO decided he wanted out of the deal, even for completely dishonorable reasons.  Sure I was in the right, but did I want to go to court to enforce it? I learned from law school that i would rather continue doing meaningful work, rather than waste, time , money and energy on litigating with someone who didn't want to do business with me.
A signed contract is just a piece of paper.  What's behind a signed contract is a relationship.  If the relationship goes sour, the contract won't save you.  The purpose of a contract is to clearly define everyone's roles and commitments.  But it's the relationship, not the paper, that ultimately enforces those commitments.  When I understood this, I focused more on relationships and worried less about what was on paper, and my business deals went much more smoothly.  Once you start falling back on the paper, the deal is already in trouble.  Creative (and lucrative) business deals almost always stray from the paper contracts that represent them.  My contract law professor liked to say that no deal he worked on ever followed the contract exactly; most weren't even close.  And these were big money deals in many cases.  Business relationships are similar to other personal relationships — they twist and turn all over the place.
I'm not saying that written contracts are not necessary . They are . especially when dealing with larger corporations where people come and go, but what i am saying is that they are always secondary to the real relationships you have with real people..  Just don't make the mistake of assuming that the contract is the deal.  The contract is only the deal's shadow.  The real deal is the relationship.  Keep your business relationships in good order, and you won't have to worry so much about what's on paper.
It's sad but true that there are loads of scoundrels in business.  And yes, many of them hold titles like CEO, President, and CFO.  There are indeed people out there who seem to care about nothing but money, and they will lie, cheat, and steal to get it.  In recent years some of the more despicable ones have gotten themselves indicted (or are already behind bars).  But there are plenty of others to whom the word honor has no meaning.    It happens.  Business,  is not for the timid.
6.  Don't go against your intuition.
Your intuition is just as important in business as it is in other settings.  You'd be amazed at how many gigantic corporate deals are green-lighted or red-lighted because of some CEO's gut feeling.  While you might think that logic is the language of business, that's far from reality.  If you base all your business deals on hard logic and ignore your intuition, most likely you'll be in for a world of hurt.
As humans we aren't very logical to begin with.  We simply don't have enough data to make truly logical decisions because business deals depend on human beings, and we don't have a logical system for accurately predicting human behavior.  Not being able to predict how other humans will behave is a pretty big gap in our logic.  And intuition has to fill that gap.  The real performance of human beings is what makes or breaks business deals.  But to assume everyone will perform as expected is unrealistic in the extreme.  No deal ever goes perfectly.
It's hard to say no to a deal that seems juicy by the numbers when my gut is saying, "You'll regret it," but more often than not, I later see evidence my intuition was right all along.  Sometimes I just get a bad read on someone, and then years later, several people I know are complaining about being ripped off by that person.
Intuition is a critical part of the decision-making process in business.  Since business deals depend on relationships, you need to get a read on the other people involved in any deal you consider.  If you get a bad read, walk away.  If you get a good read, proceed with caution.
7.  Don't be too formal.
One of the lessons i have learned from working with businesses across the Middle East and Asia (even when the businesses themselves were western) – is that business is built on relationships.  In some settings a certain degree of formality is appropriate, but in most business situations being too formal only gets in the way.  I have found that in a lot of eastern cultures, business relationships tend to work best when there's a decent human-to-human connection behind them.
Remember , most people don't want to build relationships with faceless corporations.  They only want relationships with other human beings…
Treat your business relationships like friendships (or potential friendships).  Formality puts up walls, and walls don't foster good business relationships.
8.  Don't sacrifice your personality quirks.
In the early years of running our family business, I took myself too seriously and assumed that I had to act "businesslike" … whatever that meant.  Running a business was was a weighty responsibility, and other people were counting on me.  Sink or swim, right?
When we started our family business , i was only 18 years old , and really most 18 year olds tend to be invariably weird and very informal.  But I assumed that as a business owner, being weird and informal wasn't appropriate or acceptable.   The job title of "General Manager" really went to my head.  I learned how to function without a personality.
Until one of my customers (who had been a executive at Toyota) , put me on the right track. He told me that the customers who he talked to , complained about my personality. They preferred to do business with other people in our company, because i came across as too serious. He told me to loosen up, and to allow myself to be more comfortable in myself, and that both employees and customers, would react better to me.
And he was right. It really is perfectly OK to be your own weird self and to inject your own unique spirit into your business, especially if you're in your teens or 20s.  Be more like Richard Branson, and really less like Steve Ballmer.  Don't pretend to be something you're not.  Ultimately you'll enjoy your work much more if you attract the kinds of customers and partners that want to work with you for who you are — warts and all.  Send the people who only want to work with androids to your corporate competitors.  They deserve each other.  
If other people can't handle your weirdness, too bad for them.  Focus your energy on the people who can.
9.  Don't fail to focus on value creation.
When you are starting out, it really is easy to fall into the seductive trap of thinking that the sole purpose of your business is to make money. It isn't.  The real purpose of a business is to create value.  While it's possible to make money in the short run without creating much value, in the long run it's unsustainable.  When you know your business is just sucking value away from others without providing anything in return, it will erode your self-esteem, and the business won't be much fun to run.
Start by asking yourself for the real reason why your business exists? If you are honest with yourself, you will see that it exists to provide some sort of value, both for you and your customers.  The better you understand what value you're trying to provide, the better you'll be able to focus.  The basic value provided by our family business , was that in a country just recovering from the horror of apartheid, we wanted to give people the opportunity to live in their dream homes, by making furniture affordable.  The basic value provided by my consulting business is that i am deeply passionate about helping small businesses get t the next level. .  Too often business owners aren't clear on what value they're trying to provide.  They just sell stuff and hope for the best.  That's a lousy business model.  The world doesn't need more selling or more stuff.  The worlds needs and wants genuine value creation, and that's where you should direct your efforts.
10.  Don't fail to optimize.
While i truly believe that value creation is essential to a sustainable business, i also believe that it is very naive to believe that you can simply focus on creating value, and that customers and business will take care of itself. It wont. You will end up  building a business that provides great value to the world, but loses money. You need to find a way to deliver your value, in a manner that is cost effective to the business.
When you are trying to find the middle way, you might find that your results are sub optimal. That's OK.
Even if you end up wasting too much time, money, and resources trying to produce and deliver your value.  That's OK though.  Many businesses start out that way.  Just don't let yours stay that way.
One thing that i like doing, once we have a particular business process in place, is to pull it apart, and to re-optimize it from time to time. I always look for more ways to make things more efficient. I am always looking for ways to see if we can get things done in less time and at less cost.
So as a starter critically look at your processes, and ask yourself :  Can you get it done in less time?  At less cost?  Can you do it less frequently?  Can you outsource it?  Can you dump the process altogether?
Don't fall into the trap of using archaic methods for doing routine tasks that could be automated, including inventory management, billing, accounting, order processing, communications, and marketing.  If you find yourself doing the same repetitive tasks month after month, make sure you put some effort into optimizing them.  Not optimizing is like throwing time and money down the drain.  It's often much easier to save time and money than it is to create them.
Most businesses have  abundant opportunities for optimization because there are always ways to try new things and measure the results.  Always remember that more money means more resources for ongoing value creation.  So value creation and optimization go hand-in-hand.
It takes significant effort to build a successful business, but it's also a tremendous growth experience.  I know many people who have quit their jobs to run their own businesses.  Many of them didn't do as well as they'd hoped, but I don't know any that regretted taking the plunge.  There's simply no substitute for holding the reins of your own destiny.
[callout]What is the one thing that you can do today that you have learnt from this post? Comment Below![/callout]