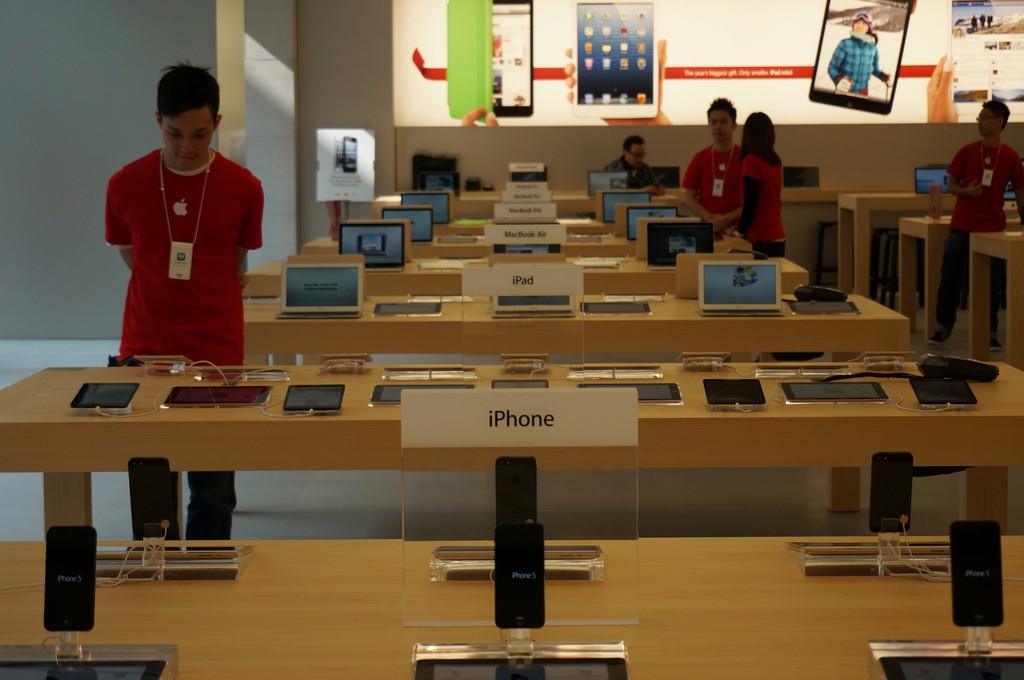 Every day thousands of customers walk into a Apple retail store to buy a iPhone, iPad or other apple product. While Apples stores are well known for their design qualities (clutter free, genius bar etc), for me the most important qualities of the Apple store are the way customers are treated and how Apple store employees communicate with their customers.
One of the ways that your business can and should differentiate , is by following Apple's lead and raising the bar on the customer service experience. How do you differentiate your business around the customer experience? Below are tactics that any retailer or business can implement to improve the customer's experience.

What the Apple Store Can Teach You About Great Customer Experience
Greet and approach – Your employees should greet customers within ten feet and ten seconds of entering your door. If your business has a customer loyalty card (or if your employees know the customers), make sure that employees greet customers by their first name. Once customers know you on a first name basis, you will have started to make a deeper more emotional connection with your customers.
Build Value – Apple employees are trained to ask customers specific questions to understand the purpose of the customers visit. Make sure that your employees are educated about your businesses products and services, so that customers don't have to wait for an "expert" to be free to answer their questions.
Offer solutions – This is a key step. Build the mindset in your employees that your business is not selling products , but rather that you are selling solutions. Employees should live the mantra that customers don't want through the door to buy products, they wlak through the door to buy solutions. When you can send customers home with the right solutions to enrich their lives, you will have made a brand advocate.
Gain agreement – Company's like Apple have a very low return rate , quite likely due to this critical step. When your employees have made sure that they helped the customer walk out with the solution they were looking for, the customer will be less likely to return the product. Educate your employees too teach customers about solutions and benefits they were not even aware existed in your  products and services. This step wont occur, unless your employees ask the right questions (see step 3) and develop a rapport with customers.
Walk out working – Educate your customers, so that when they leave the store they have a working knowledge of your products. Reducing customers frustrations after the sale, raises the customers perception of the overall experience.
Thank and depart – Have your employees thank the customer and walk them to the door (if possible). Why ? Because that is the way we were brought up to treat our guests at home. As simple as it sounds, this hardly ever occurs in the retail industry , with one notable exception – Apple
Be like Apple and make expect from your employees that  every customer walks out of your store/business with a smile. Make sure that every employee at every customer touch point in your business models the above six points. And if your people cant or wont exhibit these behaviours, well then there should be no role for that person in your organisation.
What is the one thing that you can do today that you have learnt from this post?
For any thoughts, comments or questions send Yaseen Dadabhay an email at [email protected]