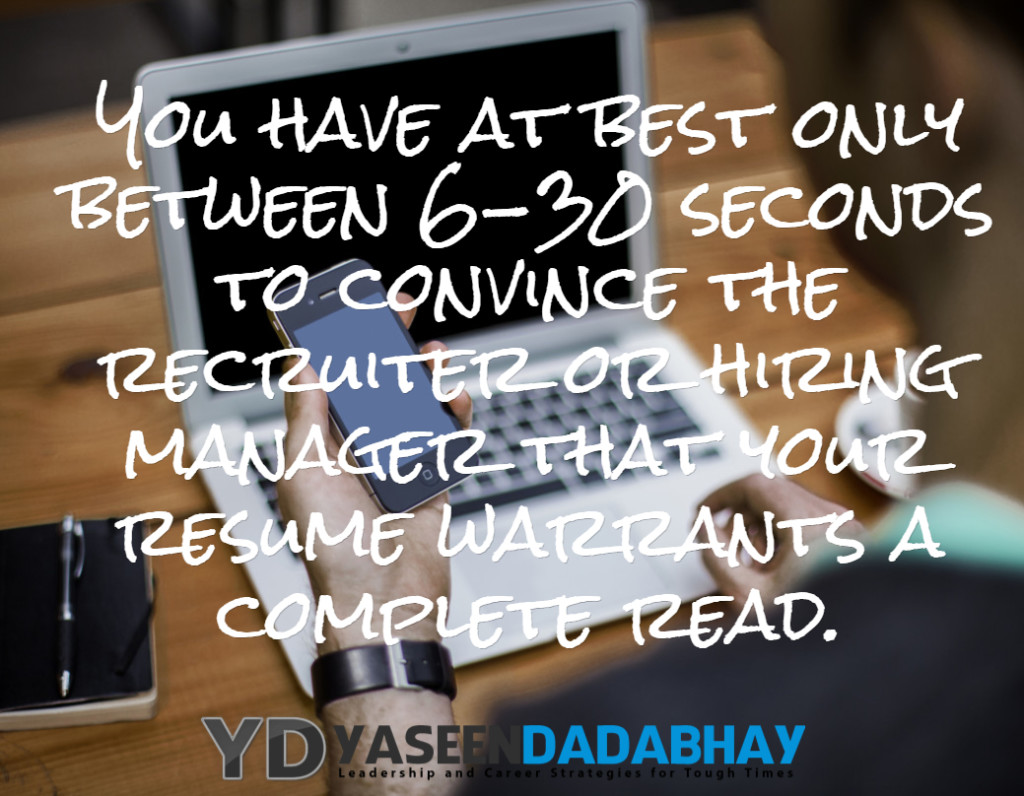 When you are searching for your dream job, there are The Unwritten Rules of Your Job Search – that are related to your resume, and that if you follow, will greatly increase your chance of getting hired faster.
Give Your Readers What They Want
You have at best only between 6-30 seconds to convince the recruiter or hiring manager that your resume warrants a complete read.
Usually, you have even less time than that.
Most recruiters and hiring managers spend less than 15 seconds on the first page of your resume. Most Hiring managers are extremely busy and usually dont ever get past the email or cover letter , let alone your beautifully written objective.
As recruiters and hiring managers , we are extremely busy , and don't have the time or the inclination to wait for you to get to the point.
So really the first rule of resume writing should be this :
Make damn sure that you construct your resume in a way that gets the reader the information they need fast.
This is in many ways a lot like writing a great tweet – you have to spend time carefully planning every word in your resume – so that you get the maximum impact , with the least words. 
Be Relevant.
The hiring manager most likely has a job that you are interested in – that's the reason he has your resume after all .
So you need to be able to show how exactly your experience fits the requirements.
Dont, ever assume that the person reading your resume will be able to magically read between the lines.
We dont have time for that.
Its not our job, and so early in the process – we don't really care that much about you anyways,
Target your Reader.
Resume writing is  a lot like writing copy for advertising and marketing.
You need to start by understanding who you reader is and what he/she is looking for.
Different people, read resumes looking for very different things.
Internal HR and Recruiting Managers : are usually looking for an exact skill fit – you have to be able to tick off specific skills , then only do they look for stability and then your personality type.
The Hiring Manager : is usually looking for skills first, followed by how flexible you are , and your ability to learn on the job. And most importantly hiring managers are looking to see whether you can Make them money or save them money.
The External Recuiter or Head Hunter : is looking for someone with hot  marketable skills.Why? Because they need to make a living marketing you. And if your skill set is not in high enough demand – well then they wont call.
Use Bullets
Bulleted sentences, that is. Make sure that your resume acts as a great presentation of your skills and value.
Stick to short sentences – They are easier to write and easier to read.
You are looking to give the reader a sense of your action and energy and also also allow him to get the gist of your experience quickly.
If you need to elaborate ?
Wait for the interview to do that.
Highlight your Strengths
Start with the strengths that are most relevant to the recruiter or hiring manager.
Put them first in your resume.
You really want your top accomplishments to be somewhere they can be read within the first 15 seconds.
Demonstrate Results
Use ###, %%%, and $$$ to emphasize your accomplishments. Increased Revenue by 25% to $300,000,000 is much more likely to be noticed than Increase  revenue by twenty five percent to three hundred million dollars.
Always remember this :  Numbers and symbols jump off the page.
Give it POP
Start thinking like a copywriter, Use words that sell.
Learn to start using Power verbs – They allow your resume to Pop.
And more than that , they are high energy and factual. They make you appear to be a driver
Just rewriting your resume alone with these words will increase your chances of being interviewed by 50%.
Accelerated
Accomplished
Achieved
Activated
Addressed
Admitted
Aided
Allowed
Amended
Analyzed
Apportioned
Approved
Arranged
Assessed
Attained
Augmented
Balanced
Brainstormed
Calculated
Certified
Collaborated
Committed
Compiled
Conceptualized
Consented
Contracted
Convinced
Coordinated
Correlated
Created
Increased
Initiated
Invented
Led
Negotiated
Started
Be Concise
Your resume should not contain one more word than needed to make your point.
Use less words and tease them.
Make them want to interview you, so that they can find out more.
Connect the DOTS for them
Recruiters and hiring managers are looking for someone who will fit to their job.
So make it easy for them to see how that person is you.
Before you write your resume, start by researching newspapers, job boards, and company career ads for positions that are similar to the one you are seeking.
Ensure that you are using the latest buzzwords – and that they are prevalent in your resume.
Ensure that the latest buzzwords.
Common key words and phrases like Talent Management (HR) JAVA (programmers) or Channel Management (Marketers) should map to the bullets in your resume.