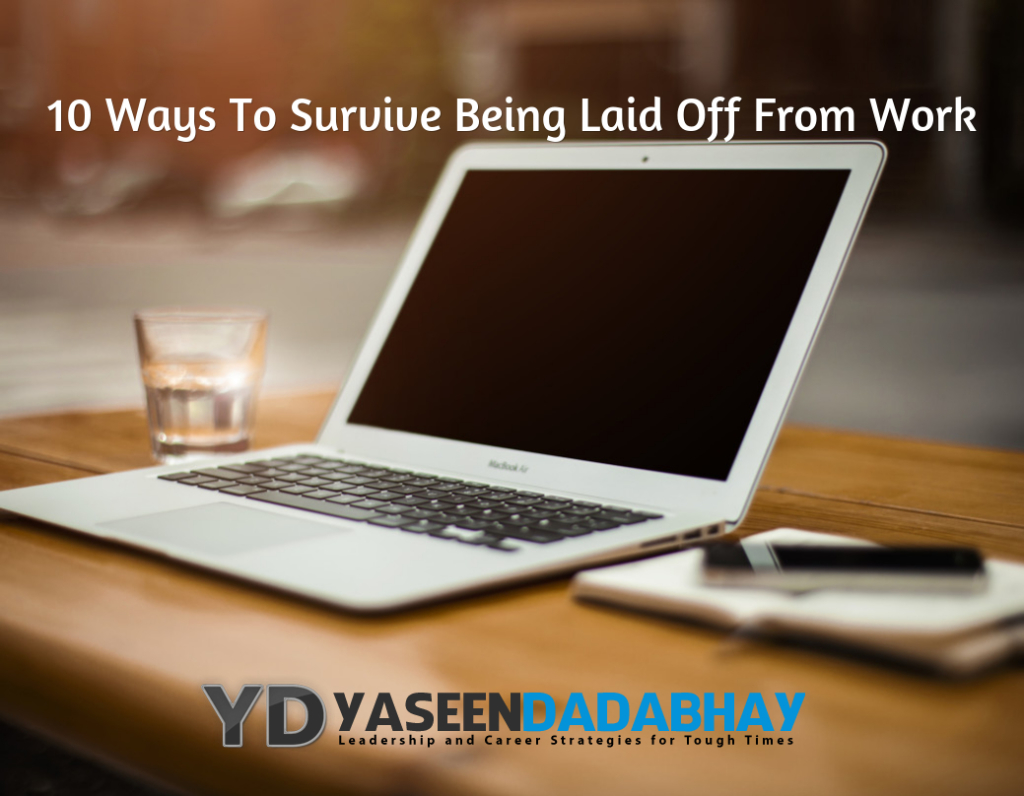 The recent news of  job cuts at Walmart Canada, Symantec and JP Morgan is a stark reminder that these are still tough times and that it's not unusual for a downsizing to occur in many organizations.Cost pressures, lack of profitability, competitiveness issues, and organizations restructurings happen every single day and impacts thousands of people. And while this may sound harsh, your position is not exempt from this ax.
Losing your job in a downsizing can be a traumatic experience.If the ax does drop on you, you're likely to feel angry, discouraged and disoriented.And while these emotions are natural, it's important that you don't stay in that place for long.
You need to realize that losing your job is just like any loss — and like any loss , your body and your emotions need some time to adjust to this new type of change that you have just experienced.
It's important that you take time to work through your thoughts and feeling and then get back on track quickly.
If you have already lost your job or you are about to lose it, here are the Top 10 Ways To Survive Being Laid Off From Work : 
Dont take the downsizing personal. There is a great possibility that the downsizing happened for reasons outside of your control. If this is your situation , then it is important for you to understand that it's not your fault nor is it a reflection on you. You're just getting caught in the middle of business fact of life that impacts just about everyone at some point in their career.There no one to blame.
Don't take the victim mindset.Adopt the perspective that you are the same great Marketing/Finance/HR person that you were before downsizing.It's important that you take on the frame of mind that you as a person, are always bigger and more important than any job or career that you'll ever have….and that your unique set of  skills and experience are valuable.
Reach out and spend time with others in your organization, especially other colleagues from your department/division , who have also been downsized. Sticking together, networking and supporting each other , will ensure that you will  get job and career ideas from them. If you think that you are now in competition with these folks for new jobs. STOP. Resist the urge. There is power in numbers.
Stay in touch with your colleagues who are still working at the company.Candidly, some may feel uncomfortable talking with you since you're now moving on. However, don't let them feel awkward and be sure to bury your own ego.Remember that your next job opening or career opportunity will  most likely come from someone you already know, and not from an ad or a job board or a headhunter. If you have taken the initiative to actively build relationships and network, then don't be surprised if you get a call from a former colleague or boss about a different opportunity.
Form your own Career Advisory Board. Put together a group of your closest 5-7 family and friends and use them as a opportunity for getting input from people around you who care. Get together twice a week to toss around ideas for how to handle the current situation and let them challenge you to look beyond the problem and consider new possibilities. They may know you better than you do and may provide options you have not thought about.
Cut , Cut and Cut those expenses. Start by reducing your spending right away to give you extra time to sort things out.Don't assume that you'll land the right job immediately. Cut your personal expenses by at least 40-70%, if needed. Don't be afraid to take brutal, even radical steps. Often, this type of self-imposed 'jolt' will encourage a different type of thinking, which is critical during this time for you. And, frankly, who needs the stress of worrying about money? You need to be thinking clearly at this time about your next career steps.
Start thinking about the kind of work that is personally rewarding to you.You may find out it's not marketing/finance/HR work.If your previous role was more of a generalist one , consider whether you want to stay a generalist?If you're doing auditing, are you tired of wrestling with clients or do you want to change your career direction entirely.Too many people are not in jobs or careers which fulfill or satisfy them. And life's too short to suffer in silence. So, use this break as an excuse to get real selfish and discover what makes you the happiest. When you're happy doing what you're doing, the money will usually take care of itself.
Invest in strengthening your towering skills.No one else will.Even in times of downsizing, the job market is still hungry for highly skilled individuals in any field – generalists, specialists, consultants, coaches, mentors, part-timers, or contractors.If you've got a specialized skill or natural aptitude, invest in expanding that skill and making it even stronger.The best skills take time to develop into a well-paid profession, career or business. It's never too late to invest in your self.
Treat the downsizing experience like a treasure hunt where getting your next job is the prize.Get out paper and pen or jump on your laptop and begin creating a plan for yourself.Identify where you are.What resources and skills you have.Who you know who can help – consider doing anything you can do keep yourself motivated until you land the next job. Turn it into a game.
Get some coaching and counseling.Many firms who are downsizing provide outplacement counseling and resources. Take full advantage of this benefit.
Going through a downsizing can be a painful experience.However, following these ten steps can enable you to cope this trauma and quickly get your career back on track.