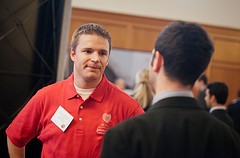 Are you feeling "stuck" in your career or nervous abut making a new job choice? Before you do anything, consider that creating a development plan for building your skills or knowledge isn't just a one-time thing: It means permanently changing  how you go about achieving it. Committing to ongoing career development as a way of life and not just a quick fix is a lot easier if you make these three promises to yourself ….

1. I will invest in lifelong learning – You cannot let your knowledge go stagnant. More important, you cannot let your ability to learn go stagnant. Lifelong learning means revisiting your situation regularly, finding new knowledge gaps, and bridging them with additional training. Getting an education is a continuous process –
2. I will develop self-awareness – Self-awareness is the ability to see your self accurately and to also be aware of how others see b.you. If you think others perceptions are not accurate , then you need to find ways to correct them, or it can hold you back in your career. Self-awareness also means being honest with yourself about your talents and potential and setting realistic goals. Being self-aware also means paying close attention to the corporate culture of your current job.
3. I will create a network of supportive colleagues and mentors – Even CEO's of major companies need advisers to help them avoid unexpected career pitfalls. in the same way, you need to develop a network of ongoing relationships with colleagues and mentors you can trust and who show an interest in helping you maximise your career. Such people can give you sound advice, warn you of career dangers, and spot opportunities for you. Remember, however, that these relationships need to be reciprocal, or such supporters may grow tired of your self-absorption and drift away
Send Yaseen Dadabhay an email at [email protected]