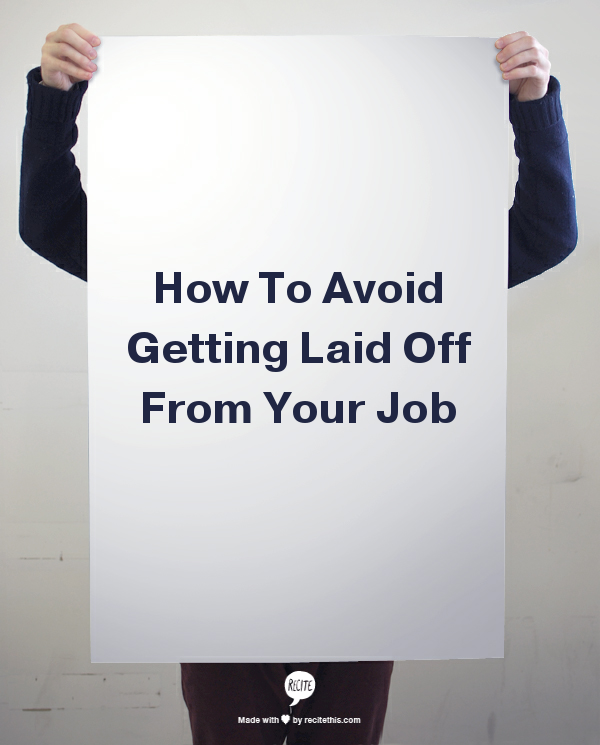 Yesterday i blogged about How to Survive being laid off from work, and one of my readers asked if i had any advice to offer on ways to ensure that you are not laid off in the first place. With Major companies like Microsoft, Walmart and JP Morgan all restructuring and laying off employees this year, no one is safe, despite the upturn in economic conditions. With this in mind, here are list of strategies to avoid getting laid off from your job :
1. Become indispensable to your team.
When someone on your team has been laid off, become the go-to team player by multitasking or volunteering to assume the work of the person who has been laid off. You want to make it tough for your manager (and the company) to be able to carry on without you. Add value wherever you can, by going above and beyond your scope of responsibilities – And make sure that your manager is aware of your contribution beyond the scope of your work.
2. Make yourself Valuable and Visible
Work on a way to distinguish yourself and stand out in your department.
3. Do self promotion.
You need to actively talk up your contributions to your boss, and heck even to your managers boss. I know that this might make some people cringe, but discussing your achievements with your management is not outright bragging. It is just objectively promoting yourself. Many people make the mistake of waiting for a performance review to let others know about their achievements.  That might be too late.
4. However, don't get hung up on getting credit for everything.
With that said , always remember that you are first and foremost a servant to your business, your team and to your employees. Lots of the work you do is transparent to all. However, the best work you'll ever do is behind the scenes, under the cloak of confidentiality helping your organization deliver results or by keeping it out of the red.
5. Be positive.
Have you ever noticed that is usually the ones with the worst attitude who are most likely to get laid off? Attitude at work matters because the ones who are happy and satisfied are less likely to get laid off. If you are not happy and satisfied, perhaps it's time to re-assess what really matters – regardless of the prevailing employment landscape – and what you really want to do, where you really want to be, instead of being whiny and grumpy at work.
6. Specialize and brand yourself as an expert.
The quickest way to attain credibility is to establish yourself as the #1 "go-to person" on some important initiative within your department. It could be delivering training, or becoming involved in new projects that your department/company are working on. On the flip-side – If you are a specialist, loosen up, and allow yourself to be flexible with the tasks and projects assigned to you. Remember that the narrower your focus or range of the tasks you can do in your role, the easier it will be to eliminate your position if the tasks are streamlined.
7. Focus on coming up with ways for making and/or saving money for your company.
Remember you were hired for being able to make your company money and to save your company money. So start to think of ways to minimize cost for your department or your company in general. If you have an idea about a new cost-saving process, bring it up and work on it. During layoffs , restructurings and downsizing's, management retains employees who can help make money or help save money for the company. If you do neither, your position is more at risk of being eliminated.
8. Network, network, network.
Most people wait until the day they are downsized to start calling their former colleagues and former managers they have worked with. Don't be one of those. That's way too late. You should continuously build relationships by staying in touch with classmates and co-workers.
9. If you're a leader or manager, take the lead to eliminate unnecessary  programs.
It's important that you do this BEFORE YOUR ORGANIZATION FORCES YOU TO. If it's not possible to eliminate them, then THEN improve or streamline them. Every program has a stakeholder.  Hunt him or her down and  team up together on this. Control your own destiny or somebody else will.
10. Stop Whining.
I mentioned this in #5. But it deserves to be mentioned again. Have a good attitude. Be the morale booster. Set an example by maintaining an even-keeled demeanor to your co-workers. Don't wait to direction…become self-directed. And then ALWAYS exceed expectations.
These are just a few strategies for avoiding the pink slip..