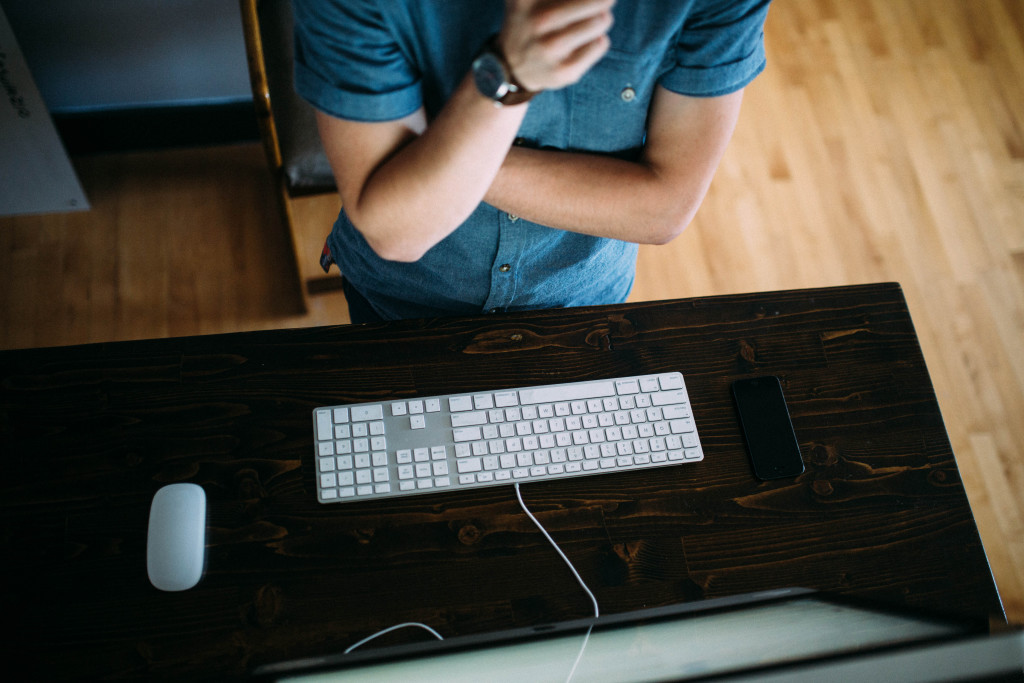 When we started our family business, we could not afford to have fancy offices, and we scrounged around to buy furniture from auctions and discount office suppliers. My father believed that a company's offices should reflect who they really are. And since we were trying to save our customers money, he believed that we were better off using money on buying more inventory at better prices than spending the money on fancy offices.  He also did not believe in a closed office environment, and customers were encouraged to stroll into our offices whenever they had a problem, or just to stop and chat and have a cup of coffee with us.
When i worked for Starbucks in the Middle East, our offices had open floor plans. That's right. Almost no walls at all. With everyone sitting together in a open environment, with only the VP's and Directors in glass offices surrounding the open office. This was to ensure that everyone worked together, and people could look into a VP or Directors office and see what they were doing.  HR and Finance, and Marketing and Operations all sat and worked together, and it allowed for a much more efficient work flow, and much less of a Silo mentality.
Amongst Non Profits,  VolunteerMatch and Idealist.org also have open floor plans.  The walls of Citizen Schools' headquarters in Boston are Plexiglas garage doors, so the entire wall moves up into the ceiling with the push of a button! This construction isn't for aesthetics; it's a symbol of transparency.
In our family business , my father encouraged new hires to sit and work in the office with him, so that they could listen in on decision-making meetings and learn by proximity. We believed that this is a speedy way to expose a new employee to every aspect of the company. We did not believe that employees should be hidden from meetings with vendors and other suppliers. Employees could not be expected to understand how we ran the business, if they were not party to decision making processes.
While I'm not suggesting that every CEO erect glass-enclosed offices or that every office have a bullpen in the middle, I am advocating fewer closed-door meetings, fewer for-your-eyes-only memos, and fewer executive retreats. And I absolutely think the C-suite concept, that executives should work in a space separate from their employees, is destructive to communication flows.
Create A Physical Work Environment That Stimulates Your People
I have been to many, many corporate offices that are stunningly designed but lack any personality or feelings of what makes the company special. These office spaces rarely communicate what the organization is all about, either to employees or to visitors.
By contrast, small businesses rarely have too much space. We are usually cash strapped, and more often than not we are squished into tiny spaces, or we outgrow a building and figure out a way to "make it work." And (most of the time) it does. "Working tight" not only is cheaper but also fosters teamwork, shared knowledge, and camaraderie. And like a cook in a kitchen without enough cabinet space, we're forced to focus on what is essential: Do we have bowls, plates, and cups?
Too often corporations see bigger as better. They give people perks, such as their own offices or bigger offices. They attempt to spread people out over a large area so they're not on top of one another. What they fail to see is that this policy encourages segregation and isolation. Separating employees by work levels (the executive floor) or by functions (the graphics department) makes it difficult for people to feel like they're all in it together. I'm for communal work spaces and for integrating employees who have different functions and responsibilities.
When we did have enough money for a bigger building and better offices, our offices were designed so that all windows opened into a Zen Like Garden and pathway , with a waterfall feature and pond. This area had benches for customers and employees to stop in and sit and just enjoy the tranquility of the environment. Since our office windows looked into the garden, customers walking through this space could stop and look into our offices and talk to us. Sure , it is always bustling with "too many" people, but this situation isn't a source of resentment for employees. Our physical space reflects our priorities: That engaging in conversation with customers is important to us, and that no matter how big we grow, we will always put conversations and relationships with customers front and centre of everything we do.